Yesterday's Book Doctor sessions for my first engagement as Patron of Reading for Alexandra Park School were a blast. I saw fifteen students, spending fifteen minutes with each talking about what kinds of stories they liked before making a reading recommendation that I hoped that person would enjoy.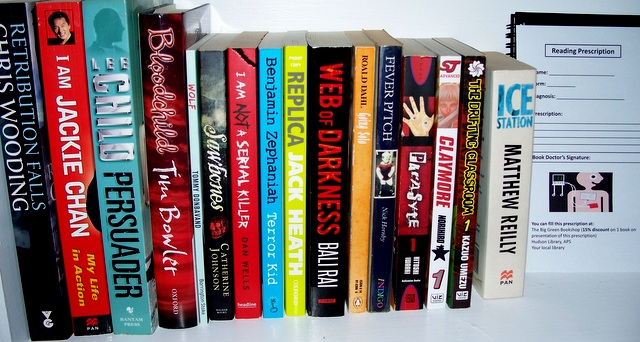 These above are the books I chose. See that piece of paper on the right? That form was created by APS' awesome librarian Ms Constantinou so that I, as Book Doctor, could prescribe my recommendations! Each student could then choose to get their prescription filled either by borrowing their recommended book from the school's excellent library or buying it from superb local indie booksellers The Big Green Bookshop, who offered my 'patients' a generous 15% discount.
Here's the full list of what I recommended:
Retribution Falls by Chris Wooding
I Am Jackie Chan – My Life in Action by Jackie Chan
Persuader by Lee Child
Blade by Tim Bowler (though it's Bloodchild in the pic; that's terrific too!)
Wolf by Tommy Donbavand
Sawbones by Catherine Johnson
I Am Not A Serial Killer by Dan Wells
Terror Kid by Benjamin Zephaniah
Replica by Jack Heath
Web of Darkness by Bali Rai
Going Solo by Roald Dahl
Fever Pitch by Nick Hornby
Parasyte by Hitoshi Awaki
Claymore by Norihiro Yagi
Drifting Classroom by Kazuo Umezu
-and-
Ice Station by Matthew Reilly
Every student I spoke to had strong opinions about what would appeal to them and what wouldn't, and expressed them with clarity and passion. It was inspiring.
Then, in the evening, I took myself off to The Big Green Bookshop to catch SF grandmaster Brian Aldiss launching a new collection of his short stories and looking back at his amazing writing life.
Now, that was a good day. 😀